Apple Self Storage
290 Marsland Drive, Waterloo ON
1ST 4 WEEKS FREE on select units
Photos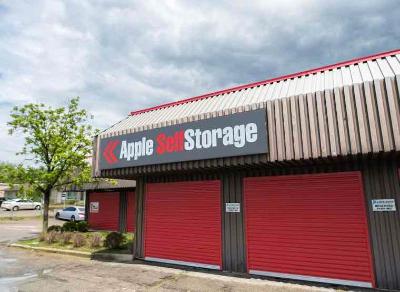 Hours
Office Hours

| | |
| --- | --- |
| Mon-Fri | 9:00am to 6:00pm |
| Sat | 9:00am to 5:00pm |
| Sun | closed |
Access Hours

| | |
| --- | --- |
| Daily | 5:00am to 11:00pm |
About Apple Self Storage
Conveniently located on Marsland Drive between University Ave and Columbia Street just east of Weber Street N. in Waterloo. All units are located indoors, which means they are all climate controlled. There is a covered indoor loading dock with 3 bays large enough to accommodate up to 50' trailers. Complimentary use of on-site dollies. Dock-level storage units with pallet truck available on site to assist in transporting goods on skids. Convenient access hours from 5:00am-11:00pm 7 days a week. Office Hours: Mon-Fri: 9:00am- 6:00pm Sat: 9:00am-5:00pm Sun: Closed
Features
Climate Control
Drive-up Access
Security
24 Hour Access
Parcel Delivery Acceptance
Drive-in Loading Bay
Packing Supplies
Dollies & Carts Available
Payment Options
Vehicle Storage
Hours
Office Hours

| | |
| --- | --- |
| Mon-Fri | 9:00am to 6:00pm |
| Sat | 9:00am to 5:00pm |
| Sun | closed |
Access Hours

| | |
| --- | --- |
| Daily | 5:00am to 11:00pm |
Facility Reviews
---
Seems like a scam. I researched Apple storage online and I called to get more information. But when I went in person to sign a contract to rent a storage space, as I was initialing the contract, the man at the desk informed me that the 4-week rental price was apparently subject to change every 180 days. He said that the rental price could go up either $4 or $5 (I can't remember which one he said) every 180 days. I unfortunately had already given him a bunch of my personal information by then. I told him I wasn't interested in renting and left with my unsigned contract. Later, I read through the "terms and conditions" and nowhere did it state that the price could increase. What is more disconcerting is the "amendments" section that reads as follows: "The owner, in its judgement, reserves the right to establish, waive, amend, or cancel the Terms and Conditions and is not liable to the Users for breach thereof." Perhaps this is how they are able to change your rental rate? No thanks- renters beware.
---
Apple storage has been awesome! Eddie is the best. Looks after every need and looks after any problems asap! - Dan Tsandelis
---
Not bad, good quality place but pricey. For the price you'd expect top notch security but if the government wants in theyre not going to stop them or even tell you about it.
---
I've rented two units now and always receive great customer service, a clean unit and easy access.
---
Super friendly staff. I recommend this storage to everyone.